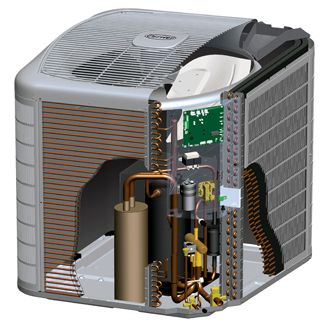 A heat pump is commonly misconstrued as an option for heat only due to the name. However, a heat pump can provide both heating and cooling, making the unit a top choice for homeowners who want a dual-purpose unit. A heat pump is becoming the most common form of HVAC system installed in homes today due to energy efficiency as well as affordability. At J&M Heating and Air Conditioning, we offer heat pump installation, repair, and maintenance to help you have a comfortable home year-round. Our team can provide you with a nice selection of heat pump systems with high-efficiency ratings so you can experience a comfortable home during the winter and summer months without spending a fortune on your comfort needs.
Each of our technicians has experience with heat pump systems and can evaluate your home to see if you can benefit from such an installation. We want our customers to have a quality unit in the home that is not only safe and energy efficient but also creates a healthy and comfortable environment. We can provide heat pump replacement when you are in need of a new unit or simply assist you with any questions you may have on the heat pump unit. At J&M, we offer you the best information on our product types so you can research the options yourself and make an informed decision.
How does a heat pump work?
Heat pumps use very little energy to move heat from one location to another based on the outlay of your home. The unit will pull heat out of the air or from the ground to provide heat to your home. The unit can also be reversed to provide a cool environment in the summer months. This is the basics of how this unit type works to help you better understand the operations of such a system.
Best Advantage of Heat Pump Systems
The biggest advantage of a heat pump unit is the fact that you are not going to be installing two units for your home. The system provides both heating and cooling which saves you on installation costs, repairs, and maintenance. The unit will work best in a moderate climate and can help you save money each month during operation.
Our Installation Services
When you are ready to install a heat pump in your home, we can help. At J&M, we offer only quality installation services to ensure your unit is functioning properly from the very beginning. We survey your home and determine the best spot for installation as well as layout duct work to ensure each room of the home is going to receive the best air either heating or cooling. We can also offer replacement installations when you are in need of a new unit in the home.
Repair Service
The operation of your system is very important and at J&M, we want to offer you only the best in repair service options. We have you covered day and night so when you experience a breakdown in operation, we can help. Our quick repair service will have your unit operating again in no time!
Maintenance
To avoid unwanted repairs and ensure your unit is operating as it should be, maintenance service is suggested. The system must be inspected and cleaned on a regular basis for each component to continue to operate normally. With our concise inspections, your unit will be operating consistently year after year during even the most extreme seasons.
To learn more about our heat pump installations or services, contact our office today. We look forward to assisting you with all your heat pump needs!

Free Estimate
Submit the form below to schedule a quote.